We are a small farmstead located in the Tillsonburg area of southern Ontario (30 minutes southeast of London). In addition to homeschooling our 4 children and running a commercial, architectural and fine art photography business, we also raise purebred Border Collies. Our niche is in providing pups that make wonderful family pets for active families. Our pups also do well in recreational sports, herding, service and therapy work.

Our Pups
Our puppies are vet checked, dewormed, micro-chipped, have first shots, and are well socialized in a family setting. They are sold on a spay/neuter contract and are registered with the Canadian Border Collie Association. Our puppies are 8 weeks old before we allow them to go to their new homes. This enables them to become well socialized with ourselves and our four children before they go to be with their new owners.

Temperament is one of the most important aspects of our dogs. They adore children, are very loving and gentle, and are wonderful family pets.

All of our breeding stock has been tested clear for hips and eyes (CERF). Also, all our dogs are DNA normal for Collie Eye Anomaly (either by testing or by parentage).
Current Litter
Janie and Flynn had 9 handsome pups on Jan 10, 2017. All are classically marked black and white. They have 3 females and 5 males (one male pup did not thrive). Please see pictures below. Panda and Harley are still available.

Tannie and Flynn had 7 classically marked, black and white pups on March 19, 2017. They have 3 females and 4 males. We will be posting the first pictures when they are a week old. We are taking reservations for this litter.
Upcoming Litter
Steffi and Robbie are expecting a litter on March 27, 2017. The pups will all be black and white. We are taking reservations for this litter.
---
Please note:
our preferred method of initial contact is by email.
We are careful where we place our pups. We are also very busy with our dogs and we do receive a lot of email. So please be patient for a reply. Update: Due to the sheer volume of phone calls we receive each day by people who do not respect our preference of initial contact by email, we have taken our phone number off our website. We welcome inquiries by email. After contact by email has been established we can talk on the phone.
We ask that if you are interested in our pups, please tell us where you live, your age, some details about yourself and your living and work situation, how physically active you are, previous experience with dogs and how much time the pup will be left alone during the week. Also, please include your phone number. One line emails will not receive a reply! If you do not have the time to tell us about yourself, then a border collie is not the breed for you!
To be considered as prospective owners of our pups, you will need to fill in our
Adoption Questionnaire
.
Russ and Tracey Salamon and family
Tillsonburg, Ontario
burhillbordercollies@gmail.com
---
Janie and Flynn's litter of January 10, 2017
3 females and 5 males
Panda and Harley are still available.
---
Misty and Andy's litter of November 22, 2016
4 females and 4 males
​All Misty's pups are sold.
---
Sasha and Robbie's litter of September 21, 2016
5 females and 4 males
All Sasha's pups are sold.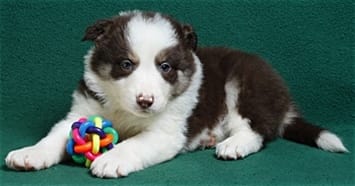 ​Jimmy (m red and white tricolour)
---
Skye and Flynn's litter of July 23, 2016
1 female and 3 males
All Skye's pups are sold.